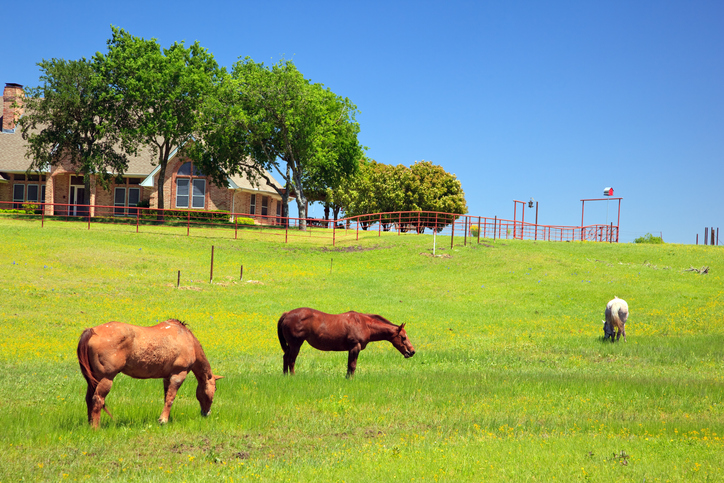 Maintaining a ranch is no easy task. Much preparation is needed if you want a ranch running like clockwork, whether it's a horse, cattle, hunting, or recreational ranch.
With my experience in dealing with various Texas ranch properties and their owners, I can give you 6 helpful tips on how to maintain your Texas ranch property:
Learn how to repair fences

Fences are an essential to a ranch. They protect your property, keep your livestock from wandering off, and set boundaries. But since they're exposed to the elements at all times, gates may eventually sag or a post or two could come off loose.

Hiring a repairman all the time to maintain your fences can be costly. That's why it's better for you to know what to do once you spot any damage. It's also a good idea to keep nails, gloves, tools, and other fencing supplies nearby just in case.

Take care of your livestock

Basic needs such as shelter, adequate water, and nutritious food are essential to keep your livestock healthy and happy. Different animals have different needs and requirements but you need to provide these basic needs first. Your livestock should also be checked regularly by a veterinarian in your area.

Inspect your machines regularly

Machineries play a huge part in your ranching operations. Common machines used by many Texas ranch owners are tractors, forage harvesters, bale trucks, and all-terrain vehicles (ATVs). To keep your machineries in good working condition, examine each one well and check if any parts need to be oiled, greased or replaced. Best to do this maintenance check before you start using the machine.

Your machinery should also have the right insurance documents to cover and protect you from any damages or financial losses.

Find the best grazing approach

A successful ranch also depends on how you manage your grazing operation, especially if you have cattle and other kinds of livestock. You'll need to consider the soil, topography, and land vegetation because these factors can seriously affect your grazing rotations and your ranch's operation.

Striking a balance among these factors is highly important because if one component fails, it can damage the rest of your ranch operation. Soil, for example, provides the water and nutrients to the natural vegetation that your livestock chew on. If the soil happens to have little of these, this could compromise your prized farm animals' health.

Keep your ranch records updated

Proper bookkeeping is essential when it comes to managing and maintaining a ranch operation. If you want a well-balanced and adequate budget for all the aspects of your ranch like sales, machinery, breeding, and manpower, your assets and expenses must be recorded properly.

Bookkeeping also helps keep track of the tax implications and benefits offered by the government. The state of Texas, in particular, offers certain tax benefits for ranch owners who grow produce and raise livestock. You can also make use of online bookkeeping software like QuickBooks, Farm Biz, and Easy Farm.

Think ahead

To have a successful ranch operation, you need to think ahead. Consider different scenarios such as spills, fires or livestock emergencies. Then craft a plan on how to respond to these. Having a contingency plan can prepare you for any disaster and help your ranch business recover in no time.
Ready to start your own ranch in South Texas? Get in touch with me, John Walker, by calling Desert Flower Realty at 361-449-2051 or DesertFlowerRealty(at)DesertFlowerRealty(dotted)com to learn more about the available ranches for sale in this thriving region.