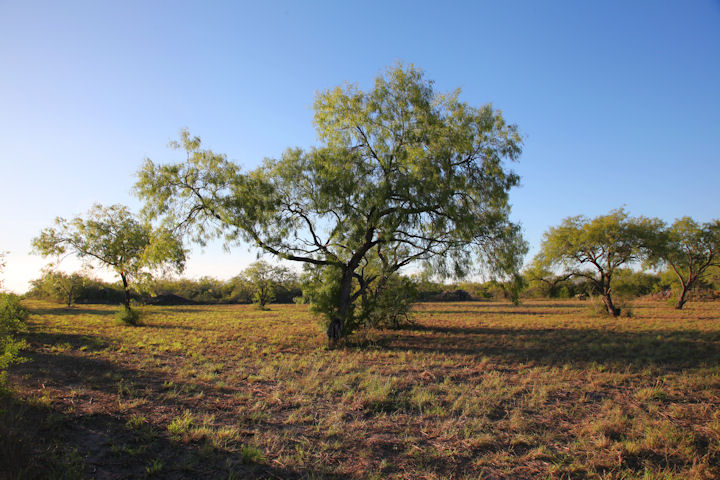 Looking to run a modest ranch or just don't want to commit to a bigger property right away? Live Oak Ranch at 555 FM 1596 in George West, Texas 78022 is the perfect size at 76.57 acres. This recreation ranch is situated in the central-eastern part of Live Oak County, near the county's boundary with Bee County.
Reasonable Distance from Cities, Privacy Ensured
While remote enough from city limits to offer proper country peace, the property is close enough to George West, just 13 miles west, and Beeville, 20 miles east, to make driving to the city a convenience rather than a chore.
In addition to tranquility, the property provides you with plenty of privacy. Sole access to the ranch is through an exclusive easement road right off FM 1596. The exclusive access and locked entry gate, allows only predetermined groups or individuals to pass through the easement and enter the property. A wire perimeter fence also delineates the property.
Diverse Wildlife and Vegetation
The loamy soil and clay subsoil found on the ranch and much of the eastern part of Live Oak County make the best conditions for a variety of plants and trees like guajillo, granjeno, guayacan, prickly pear, and hog plum, among others. The ranch already benefits from the presence of this vegetation, which provides valuable shelter and shade for the wildlife found in the ranch.
It won't be out of the ordinary for you to catch deer and hogs making rounds in the property. Bird watchers with will also spot mourning doves, white-winged doves, and bobwhite quails that roost in the trees and forage beneath them.
Cleared Areas with Multiple Uses
Located at certain areas of gently sloping Live Oak Ranch property are cleared swaths of land that lend themselves to various uses. Two cleared areas close to the entrance and the small tank in the middle of the ranch offer perfect hunting areas for those so inclined.
A well-maintained path cuts through the ranch, making foot travel across it straightforward and effortless. And the small tank placed right in the middle of the property makes water access from all directions convenient.
Hidden Potential
Even though this property is listed as unimproved, there is ready access to electricity for future development on the property.
Its slightly secluded location in Live Oak County near Highway 59, a historically important transportation link between the ports in Houston and Laredo, can spur potential in other ventures, such as nature retreats, hunting, horse ranching, and so many more.
Final Details
Live Oak Ranch is a surface-only offering with no mineral rights. It's considered a small ranch at 76.57 acres, but you still don't want to miss out on owning this modest property for $267,612.
If you'd like a tour of this featured property, give us a call at 361.449.2051 or email us at desertflowerrealty(at)desertflowerrealty(dotted)com. We'd be happy to show you around and answer any questions you might have.