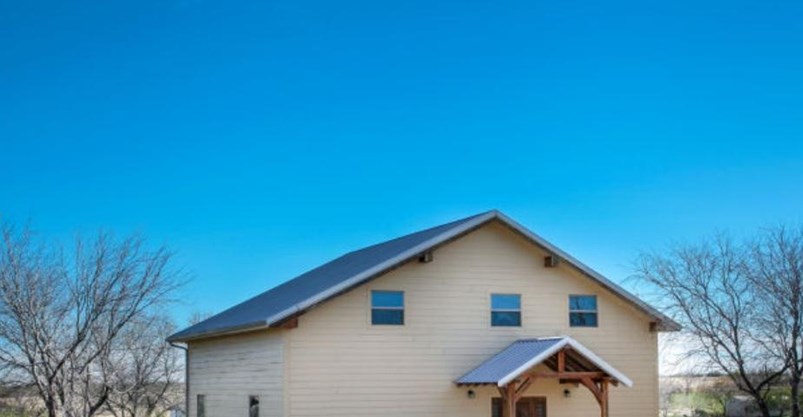 Nestled on a 2-acre corner plot, this 2,274-sq.-ft., custom-built farmhouse blends country charm with modern comfort. This property is located 7.5 miles from Three Rivers and 3.5 miles from George West. It can be found on the right side of the CR 308 once you get off Highway 281.
On the grounds
The property is secured with barbed wire fencing. You will find a water well, a septic tank, and a storage shed with a design that matches the house on the grounds.
Set well back from the road, the house faces a spacious front yard. It has enough space for landscaping or accommodating multiple cars.
Cedar for rustic authenticity
What makes this home special is its use of wood as a primary material for its rustic look. The wood of choice for the beams, pillars, and other exposed wooden frames of this home is cedar. It is also the material used for the doors, window frames, kitchen cabinets, and stairs.
Open space, many windows
The main door opens up into a massive open-plan living room, dining area, and kitchen. The ceilings and walls feature more of the exposed wood beams and supports. Dark tiles complement the woodsy chic style.
Windows in this property are a-plenty. These permit the entry of natural light and provide great ventilation.
Spacious kitchen
The cozy, rustic kitchen setup is only disrupted by the shiny stainless-steel sink and appliances that provide the area's functionality. The kitchen has enough room for a bar or island. Or it can be kept open to share the floor area with the dining and living areas. Open floor plans are a great option for those who enjoy interacting with guests while preparing food.
First-floor amenities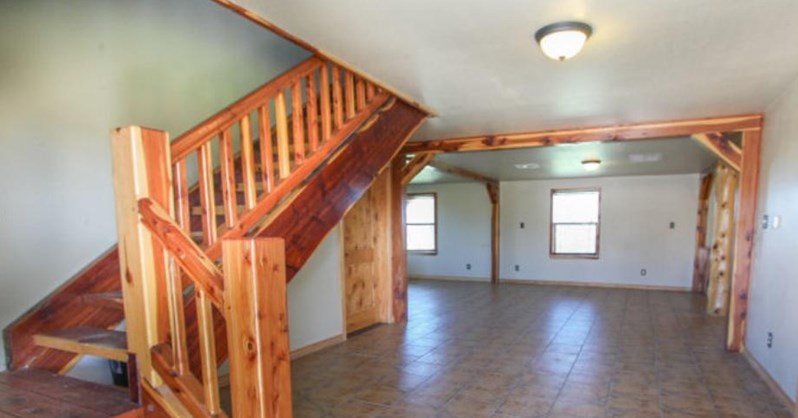 The first floor has a handy utility room with a washer and dryer set, as well as an instant hot water heater. A guest bath is also provided for.
The door leading to the back porch is conveniently located next to the kitchen and across the skillfully-crafted wooden stairs.
Second-floor amenities
Upstairs, the first-floor landing provides access to four bedrooms, one of which is a master suite. All bedrooms feature wooden louvered doors on the fitted wardrobes, as well as overhead fans with lights.
The large master bedroom has ample wardrobe space and its own bathroom. This comes with an antique wooden vanity and an enclave shower. A door in the master bedroom leads to a wide balcony that provides fantastic views of the Live Oak County countryside.
Apart from the bedrooms, a common bath shares this floor. The common bathroom also has an enclave shower, as well as a wood-accentuated oversized bathtub.
All but the bathrooms here are fitted with beautiful hardwood floors. The sloped ceiling that tops this floor adds to the space's rustic charm.
Meanwhile, the wide landing with a large window can be set up as a mini office space or reading area.
Back porch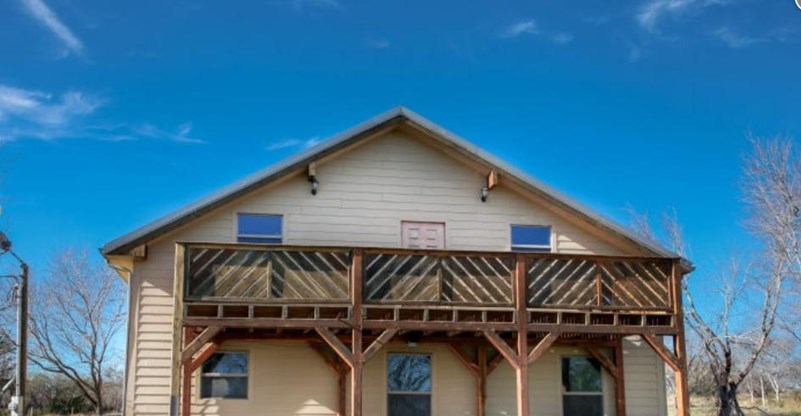 The back porch sits directly below the balcony. It is generously spaced, providing enough room for an outdoor seating area for entertaining guests or for afternoon tea. It overlooks a large open backyard that is spacious enough to accommodate a swimming pool, a kids' play area or a landscaped garden.
For more information on this wonderful property or for arranging a viewing schedule with one of our agents, get in touch with us at 361-449-2051 or via email at DesertFlowerRealty(at)DesertFlowerRealty(dotted)com. We are Desert Flower Realty and we'll be glad to be of help.