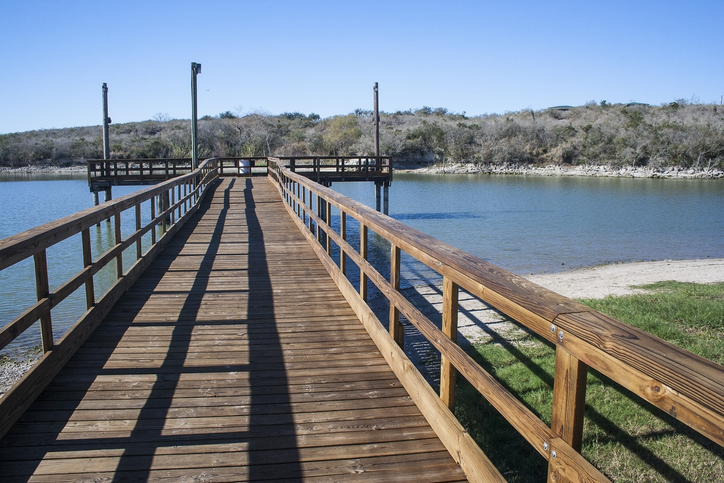 With the beautiful Lake Corpus Christi less than a stone's throw away, this idyllic waterfront home would make the perfect retreat or permanent residence for couples and families alike. The nearby fishing pier lights up at night, allowing for a spot of evening fishing, or a gentle row across the lake.
The home itself is simply captivating, with vaulted ceilings, wide open windows, and plenty of natural light able to make its way in. The property also features an intriguing open-living design, with plenty of space internally for all manner of décor. With 6 bathrooms, 6 bedrooms, and an easily navigated layout – this two floor house could quickly become a firm favorite amongst friends, family, and visitors.
External Features
There are two very well-manicured waterfront lots, a sturdy fishing pier as briefly mentioned above, a concrete bulkhead for extra reinforcement, and a detached garage complete with patio and suitable for larger-than-average vehicles. As if all of the above wasn't enough, the stunning home has panoramic views of Lake Corpus Christi, as well as plenty of natural environments to take in and appreciate.
Internal Features
Inside, this home comfortably features a 3,140 Sq. Ft structure, a large living space, windows from wall to wall, and traditionally styled wood beam ceilings. The addition of a flagstone fireplace really adds to the level of authenticity emanated by the property, which is fully equipped to burn wood and keep everyone within warm during those colder months.
A wet bar is also present, as are hardwood cabinets within the kitchen. The sale of this property also comes with appliances – adding to the versatility of the kitchen area.
There are three comfortable bedrooms downstairs, all of which boast their own attached bathrooms. Central heating is located throughout the house, which is also equipped with air conditioning features to keep residents comfortable whatever the weather.
The First Floor
The journey upstairs can be enjoyed in style, with a spiral staircase leading the way to 3 beautifully designed bedrooms with en suite bathrooms. Carpets are present throughout all 6 bedrooms, and due to the space within each room, renovations and modifications would be a fairly straightforward task to undertake.
Additional Features
With a weather resistant metal roof, a water well, and 2 septic tanks – this home is as well-equipped to promote comfort as it is at remaining secure, whatever time of year it might be. This home is truly one of the most impressive that we've come across, and for anyone that might be interested in viewing; bookings can be made by appointment.
The home itself is located in Mathis, Texas – a region with a low population, minimal crime rate, and being named after its namesake Thomas H. Mathis, who kindly donated 300 acres of land for the town and the first school in the area.