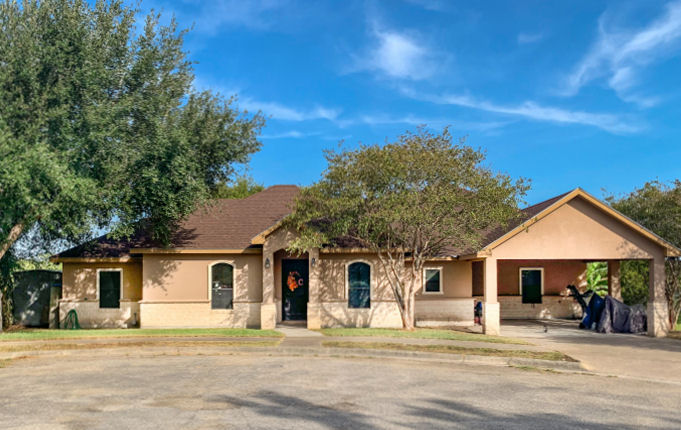 This four-bedroom single-family home on Chelsea Drive in George West brings you Texas suburban living at its finest.
Located on a quiet and sparse street in an exclusive community, the house sits on an oversized lot measuring 0.29 acres with mature trees that offer much-needed shade and privacy.
Experience Open Concept Living in South Texas
This Ranch-style custom built home is hardly cookie cutter. Made with stone and stucco, this property was built to last on a slab foundation and meant to be passed down through the generations.
The exterior is painted a soft peach color that exudes the warmth of lavish villas along the Mediterranean. A wrought iron front door custom built for the home greets guests as they enter, while plantation shutters frame the windows.
But the focal point of this home is the expansive living area, which was designed with open concept living in mind. The split master floor plan makes it ideal not just for entertaining (though it certainly will impress guests) but for day-to-day living, a singular space where you and your family can enjoy meals, play board games, or simply catch up over a cup of hot cocoa.
The eat-in kitchen features built-in dark wood cabinets that keep the clutter out of site, as well as a sturdy granite counter on which to prepare meals or eat a quick breakfast. A stainless steel oven, walk-in pantry, and dishwasher make meal preparation for all those dinner parties easier and more enjoyable.
But when it comes time to retreat into your own space, you can choose from any of the four bedrooms on the property. The master suite feature his and hers closets in addition to carpeted flooring and venetian blinds.
The master bath can serve as your personal spa, with a separate tub, dual vanities, and exquisite custom chandelier.
There is also a bonus room that may be converted into a play area, home office, or workshop, depending on your needs.
Parking is not an issue – aside from the two-car garage on the premises, street parking is also available.
Why live in George West?
This city in Live Oak County offers many opportunities for recreation, education, and employment – a place where you can set down roots and form lasting friendships.
The downtown area is lined with shops, cafes, and restaurants. Hunt for bargains, sample Tex-Mex and Southern cooking, and listen to live music.
The city is also known for the Farmers & Artisans Mini Market, where you can buy fresh produce and support local vendors.
Residents are served by the George West Independent School District, which pays special attention to student health in addition to academics and extracurricular activities.
The largest industries in town include:
Mining
Quarrying
Oil and gas extraction
Retail
According to Data U.S.A., the highest paying industries in George West are Transportation & Warehousing, Manufacturing, and Utilities.
Find a home that ticks off every box on your list at George West and other South Texas communities. Let Desert Flower Realty be your guide. You can shoot a message here. You can also contact us at 361.449.2051 and DesertFlowerRealty(at)DesertFlowerRealty(dotted)com.