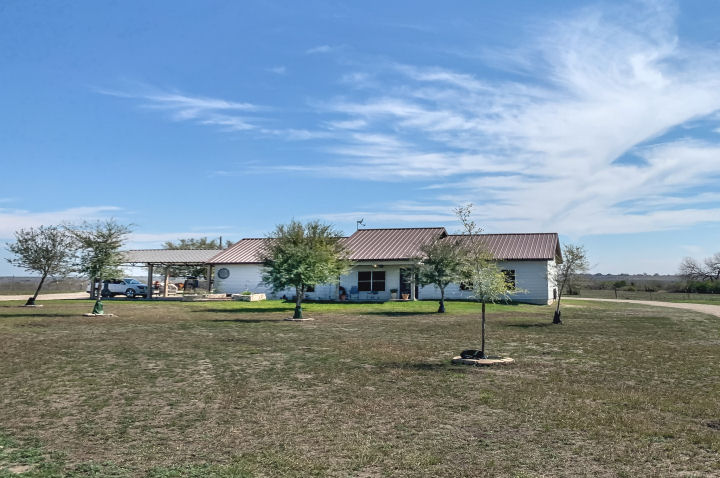 There's certainly a lot of truth to the saying that the best things come in small packages! Just look at this beautiful completely remodeled horse property in South Texas that you and your family can quickly move into and start enjoying the lifestyle you've always dreamed of! Perfect for your small growing family or to spend your retirement years in, this 14-acre spread in Three Rivers, Texas really packs a wallop!
A rare jewel of a horse property in South Texas
Located at 170 CR 215 in Three Rivers, this gorgeous custom-built 2,150-square-foot South Texas home on 14 acres of land is a prize just waiting to be snapped up.
This sprawling home features a modern open floor plan with an enormous covered patio, 3 large bedrooms and two baths, each fitted with beautiful granite countertops. The master's bedroom isn't just huge, it also boasts a wonderful walk-in closet!
Gather your family together for meals in the eat-in kitchen! The kitchen is the stuff any homemaker's dreams are made of, with the latest stainless-steel appliances, granite countertops, custom oak cabinetry, as well as soft-close and pull-out shelves. Flooring throughout the home is tile, making it a breeze to keep the floors spotless and sparklingly clean.
The home is outfitted with all the modern-day amenities that make for comfortable living. Enjoy the convenience of hot water on demand with the new water heater and beat the heat with a highly-efficient HVAC system – in fact, this home is equipped with a whopping 14 fully-functional ACs!
Don't like a dirt track into the home? No worries there: There's a dedicated off-kitchen utility where you can rid yourself of your muddy or dusty boots and shed the rest of your outdoor wear.
Worried about the elements wreaking havoc on your home's components? Don't be: Not only does this home feature superior metal interior framework, but it's also protected by a metal roof that's as beautiful as it is sturdy. This all guarantees that your home will remain in great shape for decades to come, providing you with unparalleled value-for-money.
Raise livestock, horses
But that's not all. You can finally indulge in your love for the outdoors all you want! This property is also equipped with all you need to raise horses and – well — chickens! In fact, it's got everything you need for the idyllic self-sufficient lifestyle: horse stalls for your favorite mounts, a large chicken coop, a 30' x 60' metal barn, a tack room and, for your mechanical rides, a 50' x 60' carport.
What's more, you can also be assured of reliable providers for your most basic needs. The septic system is connected to the El Oso Water Supply Corp., while electricity is supplied by San Patricio Electricity.
Getting there
To get to this horse property, head east on Highway 72 for approximately 2.10 miles from the intersection of Highway 37 and Highway 72. Turn right onto FM 1358 and proceed approximately 0.6 miles, then turn left onto FM 215. Head east for another 0.65 miles. You'll find this beautiful parcel of land on your right.
Rural living is truly what dreams are made of. Considering buying a South Texas horse property? Read more about the benefits of the rural lifestyle in this informative blog post.
If you are interested in this beautiful horse property, you can inquire with Desert Flower Realty to get started on the process. Reach out to our local real estate experts by calling 361.449.2051 or by sending an email to DesertFlowerRealty(at)DesertFlowerRealty(dotted)com today.