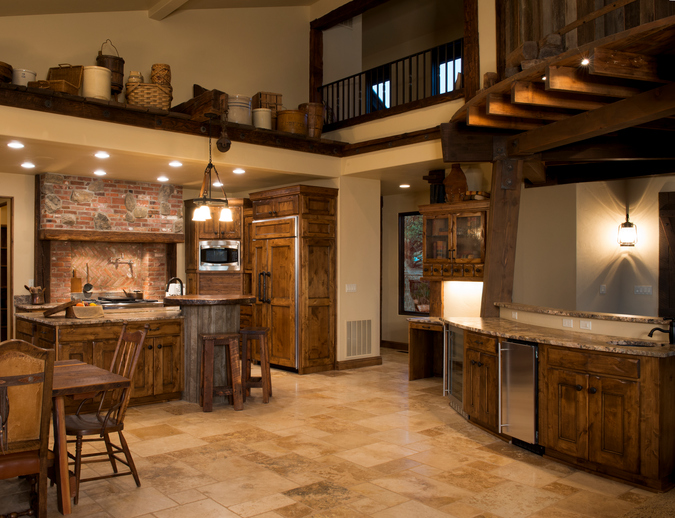 So you've gone and bought a country home. Good for you! Now all you have to do is turn it into the country retreat you've always wanted.Here are a few tips on how you can make your home both comfortable and charming:
Use muted colors.

Traditionally, country-style homes use natural, muted colors.Think browns, pale greens, and off-white. These colors helpadd a sense of age to the furniture.Most importantly, they are relatively easy to dress up and can complement a variety of décor.

Aim for the shabby chic aesthetic, which is the perfect balance of classy antique looks and a warm, "lived-in" vibe.

Go for natural architectural touches.

Organic materials are not only aesthetic choices. They also add a connection between the home and nature.This also ties in with the history of country-style decor, which is directly related tofarm life.

Materials like wood and stone are popular choicesfor floors, fireplaces, and walls. Brick floors can also give your home the feel of a rustic farmhouse.Using wooden benches, barn boards, and exposed wooden beams also evokes a more homeylook.

Buy antiques.

Rather than shopping for a set of matching furniture at a big store, your best option for that classic, rural feel is to buy furnishings at flea markets or antique stores.

Don't worry about finding furniture and decor that match. What's important is to make sure all your items complement each other. Don't forget tips #2 and #3 to help you shop for the right stuff.

Display collections.

If you're a collector and you'vealways wanted to show off your treasures, now is the time to do it. Displaying personal collections, such as vintage wares, is apopular element of the country-style look.

Try lining your wooden shelves and mantleswith sets of good china, antique Americana items, teapots and teacups, or filled mason jars. If you don't collect anything, consider displaying framed photographs or keepsakes instead.

Look for handmade decor.

Incorporating handmade decor and furnishings into your home can also help you achieve that country home look. Consider wicker baskets, which are both decorative and functional. Carved wooden utensils and bowls are also great pieces that can be conversation starters during dinner parties. Liven up outdoor spaces with plants and pottery.

Get creative with patterns.

Patterns can add a splash of excitement to contrast with the earthy, neutral colors of the rest of your home. Make sure not to go overboard with your patterns as they can look overwhelming and garish. Mix and match well.

Some of the most popular patterns for the country-style look include:

floral
gingham
plaid
checkers
neutral-colored stripes

paisley
toile
cow print fabrics or faux cowhide

Finish with patina.

Give your home a vintage look with patina finishes that make wood, metal furnishings and enamel look invitingly well-worn.
Browse our blog for more real estate tips and contact us anytime to learn more aboutavailable properties in South Texas. Call Desert Flower Realty today at 361-449-2051 or send us an email atDesertFlowerRealty@DesertFlowerRealty.com.